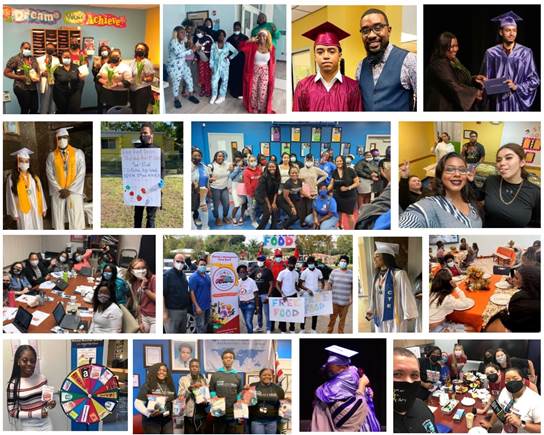 As the faces of students and teachers throughout our school network show in the above photos – instilling a joy for learning continues to be the centerpiece of our work for the young people we are privileged to help educate. Regardless of the challenges faced during 2021, everything we did was designed to set our students up for success, and unlock their potential for the future.
As much as the pandemic continued to disrupt every aspect of our daily lives - and especially in education - we have already been leveraging technology for the purpose of reaching students in all environments, engaging students with comprehensive content and educator guidance that meets their pressing needs, and ensuring students can access what they need, where they are.
With the start of the New Year, we will be fully rolling out EdisonLearnNow™ , our engaging at-home learning experience for parents and students. These self-paced eCourses for students in grades 6-12 offer the ability to catch up on necessary skills, get a head start before a major transition, or seek enrichment that meets their interests.
We continue to enhance our full 150+ eCourses catalog in core and elective subjects, plus Career and Technical Education (CTE), social-emotional learning and student empowerment, and nearly 50 embedded project-based learning (PBL) units focused on mastery.
Additionally, we will be engaging with our current and future partners to confront the major issues in education that are the fallout from the pandemic: supporting Social Emotional Learning, Mitigating Learning Loss, and addressing Teacher and Staff Shortages.
These, and countless other efforts, demonstrate our mutual capacity, perseverance, and resilience to advance our organization forward, intensify our focus on student achievement, enhance our customer relationships, and promote a reputational foundation that is already leading to new growth opportunities.
2021 also marked a significant threshold, which goes to the core of our mission. With the Class of 2021 graduations at all seven of EdisonLearning's Florida-based schools, the total number of graduates from an EdisonLearning network school - beginning 10 years ago - is now 5,190.
The accomplishments of these extraordinary young people are remarkable and inspiring, especially when considering the challenging life circumstances many have faced. As a result of their socio-economic disparity, it was assumed that they would not finish school, would not find a decent job, and would never go to college. Yet, they preserved, succeeded, and fulfilled their dreams.
For each of us with the advent of a New Year, comes the expectations of new hopes and dreams. As a result, we should take into account the words of Harriet Tubman, an escaped slave who became a "conductor" on the Underground Railroad, leading enslaved people to freedom before the Civil War, who once said:
"Every great dream begins with a dreamer. Always remember, you have within you the strength, the patience, and the passion to reach for the stars to change the world."

Enjoy the time with your family and friends, and have a happy and safe holiday.
Thom Jackson